 "It's not about money. It's about the people you have, and how you're led."
B3 Brain Behind Brand started its journey in 2008 as a
placement consultancy service
. Since then, we have served hundreds of satisfied clients all over the world. With changing needs of time, we added more offerings to our service catalogs and today, we are one of the most trusted partners to many MSMEs in India.
Hundreds of reputed MSMEs trust us for delivering what they exactly need and exceeding their expectations.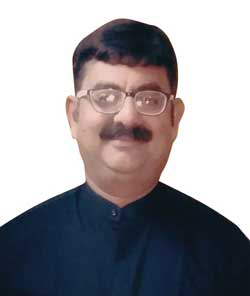 Amitava Banerjee (Founder and CEO)
He has Graduated in Civil Engineering from Indian Institute of Engineering Science & Technology, Shibpur, India (erstwhile Bengal Engineering College & BESU). He has done Post Graduate Diploma in Management & attended several prestigious Training & Development Programmes, Conferences etc of International Repute.
He has Industry Experience of 29+ Years in Multinationals, Indian Corporate Giants & Family Run Mid Level Companies. Held the Top/ Senior management Profiles e.g– Vice President, Sr. General Manager, Regional Manager etc at different phases of his career.
Founded the Organisation in the year 2009 and developed a clientele spanning India , Oman,Bangladesh , UAE,Malaysia etc Established the organisation as a leading consulting house based out at Kolkata ,India with clients belonging to various domains & industry verticals .
T. Ganguli (Head, Information Technology)
Mr. Ganguli brings with him 20 years of experience in Data Analysis, Solution Architecture, Design and implementation of Data Warehouse and Data Mart, International Client Management and Enterprise Application Integration along with rich exposure to technical consultancy to high volume data centric solutions. He has led the design & implementation of technical business solutions, on cloud data processing, data visualization, data governance, data cleansing . He has worked in different roles as data engineer, data architect and project manager on large complex projects in companies like TCS, Cognizant, Accenture and HCL.
Koushik Chatterjee (Consultant- Training, Coaching and Mentoring)
Koushik enjoys being a catalyst for sustainable change for his clients.
Koushik is an Executive Coach and credentialed by the International Coach Federation (ICFACC). He is also a Certified Intelligent Leadership Coach from John Mattone. Besides, he is a certified sales facilitator from RAIN Group, a global top 20 selling power organization.
Koushik coaches professionals to unleash their potential – generate energy, sharpen skills, and execute in the zone. Clients say his curiosity, empathy, vulnerability, provocation, and persistence discover and inspire sustainable change for them. Most enjoy the passion,
rhythm, and humor in the journey they travel together. A section of his clients wish to transit from a role, career, or industry. Some want to kickstart a hustle, be self-employed, or turn an entrepreneur. His expertise in sales performance improvement draws more business and sales leaders. Here he works with his clients in the area of improving conversations to connect, engage, collaborate and influence – in the context of sales conversations, meetings, presentations, and speaking.
He has delivered over 2,000 hours of professional training and coaching over the last five years. His clients represent technology organizations like HCL, Ingram, Microsoft, Dell Technologies, CISCO, HP, Microfocus, Accenture, Verizon, and Team Computers. Some of his other clients have been professionals from Motilal Oswal, Tata Beverage, Kanter, E & E&Y, SBI Cards, MYK, and many start-ups like Vernacular, Talview IAN, Pepperfry, et al.
In his corporate experience of over 20 years in HCL, Koushik led large businesses across products, services, and solutions. He has hands-on sales, sales management, and P&L experience in complex B2B sales, distribution, channel, and retail business. He led the Toshiba
mobile computing business to over 10% market share in a highly competitive landscape. He was the founder of HCL Career Development Centre and expanded the greenfield to a large service business in three years.
Over his last eight years of the entrepreneurial journey, Koushik has founded Career Clinic and personally guided undergraduates to suitable careers. He also advises ICT Services company on marketing and business development.
Koushik is a B. E. (Electronics & Telecom) and MBA (Marketing) by training. He had also undertaken a doctoral foundational course on Research.
Koushik is based in Delhi. He volunteers into activity that supports his creative, social and spiritual ambitions. He is actively seeking a co-author to give wings to his aspiring book.
S Kar Bhowmik (Head, Branding & Creative Serbices)
A 1997 graduate in Mining Engineering, he served the mining and construction industries for couple of years. He played various roles in the IT industry. He led and managed many successful IT projects in India and abroad. He worked for leading IT companies like Cognizant Technology Solutions and achieved many awards as an IT professional .
Apart from his engineering career, he is a well known writer and artist, having written two books including a bestseller and having published multiple articles and illustrations in various leading newspapers.
He is also associated with various social service activities.
Amit Kusari (Head, Customer Relations)
He has Industry Experience of 30+ Years in Multinationals, Indian Corporate Giants & Family Run Mid Level Companies. Held the Top/ Senior Management Profiles in Sales, Marketing and liasoning. Associated with B3 BRAIN BEHIND BRAND since inception , he is one of the key players in acquisition of clients as well as servicing the executions.
Abir Mukherjee (Head, Human Resources)
Personable and analytical HR Professional with multifaceted expertise of over 28 years of experience in Human Resources Operations, Workforce Management, Training and Development. Hands-on experience in talent acquisition & retention, upholding healthy employee relationship, attending and understanding employee grievances and sustaining positive working environment.
Siraj Mukherjee (Head, Content and Research)
A self motivated professional with 20+ years of experience who started his career as a Freelance Journalist and became Sub-editor of a English Magazine. After two years he stepped in to the world of Advertising and worked with renowned agencies like BEI Confluence, Indo Aryan. From 2008 he took new role of Managing Brands of Hospitals of repute. Now, as the Branch Head of a Mumbai based Digital Agency has substantially contributed in generating higher revenue through the strength and merit of strategizing and creative rendition.
The above is not an exhaustive list.
Kolkata Office
Flat -1A, 349 P. Majumdar Road,
Kolkata – 700078, West Bengal, India
Phone: 9831116047/ 9831001763/ 9073302788
Email: [email protected]
Bangalore Office
Radiant Enclave, Flat #103
Sun City
BSM Extension
Kengeri Satellite Town
Bengaluru, Karnataka 560060
Bhubaneswar Office
Plot No @ 1069,
Bhimpur, Near Old Airport,
Bhubaneswar, Odisha, PIN – 751020
Guwahati Office
B3-BRAIN BEHIND BRAND
C/o Mr. Apurba Kr. Sarma
14, Hem Baruah Path
Zoo Narangi Road
Guwahati-781024
Assam
+91 70029 45663